TARELCO II - AWARDS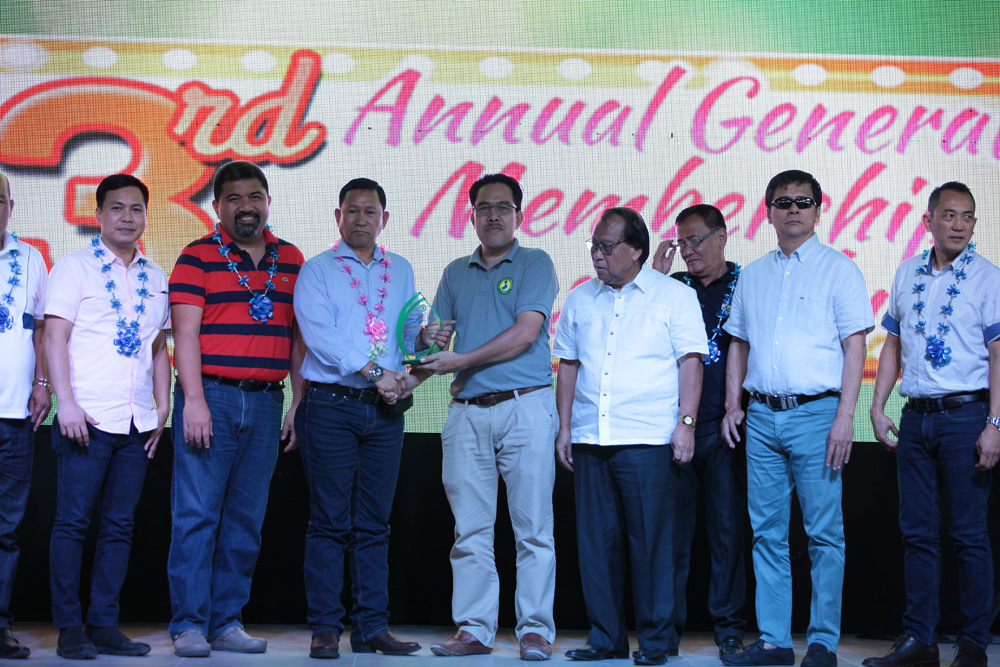 Tarelco II has received numerous awards since its inception in 1982. It has been accorded "Most Outstanding Electric Cooperative in Region III" from 1983 to 1985 and "Most Outstanding Electric Cooperative in Northern Luzon" in 1986. The coop suffered its first drawbacks in 1987 up to 1995 where it plummeted from a Category A Coop to Category C, D, E and finally D in 1995, where it became part of NEA Relending Program for distressed cooperatives. It was in 1996 when the cooperative have been able to recover from its quagmire and attain a sensational improvement in its operation. The coop even received the "Most Improved Coop Award" from NEA for being a category A coop from category D, a record which has been held by the coop up to 2001. From 1997 to 2000, it was also elevated to a Category A Plus cooperative and is now considered as one of the top ten performing and viable coops in the country.
In 2001, it has been awarded a consistent category A + coop and low system's loss award. For the year 2002 and 2003, it has been the recipient of the Emmanuel Pelaez Award for Most Outstanding Electric Cooperative as well as Most Outstanding GM for Mr. Jose D. Tapnio. It is also a recipient of several awards for 2004, including the Outstanding Cooperative and General Manager; and Consistent Category A Plus Cooperative Award. In 2005 and 2006, it was awarded EC of the Year for Extra Large Cooperatives and again for 2007, the coop was awarded Best Electric Cooperative Award and Rated A Plus by the NEA for its 2007 Performance. It was also honored as a Consistent A Plus Category for Ten Years and awarded in Excellent Rating. For the year 2008, it has again proven that it is considered as one of the most viable electric cooperative in the country by again receiving the Emmanuel A. Pelaez Award for EC of the Year.
In 2009, the coop was again the recipient of the Emmanuel N. Pelaez Award for the Best Electric Cooperative (EC) of the year and awards for the System Loss Performance Award for Single Digit System Loss and award for belonging to the Region with All EC's registering Improvement in System Loss.
In 2010, the coop once again reaped various awards including the prestigious Hall of Fame for the Emmanuel Pelaez Award which is awarded to an for sustaining its track record of sterling performance in all aspects of operations and having received this award for three consecutive years (2008-2010). It was also a recipient of the Emmanuel Pelaez Award for Best Electric Cooperative of the Year, for 2010, Single Digit System Loss (Main Grid) and Special Citations for Top Ten ECs with Best Financial Performance and earned excellent rating in Scorecard for Corporate Governance.
For the year 2011, the Coop harvested bountiful fruits when NEA-EC Lumens awarded the Grand Hall of Fame for Emmanuel N. Pelaez Award. Simultaneously, Best Electric Cooperative of the Year was bestowed upon the Coop. Additionally, Best in System Loss Performance Award-Single Digit System Loss (Main Grid); Special Citation for Top Ten (10) ECs with Best Financial Performance for the Year 2011; Special Award for ECs that Contributed to the Attainment of 1,520 Sitio Energization, a program to energize the entire archipelago as dreamed by His Excellency President Benigno S. Aquino III.
Last year, 2012, Tarelco II jumped up from being an Extra-Large Cooperative to Mega-Large, meaning, there was significant increase in the number of household connections and at the same time, the coming in of agro-industrial business industries within the coverage area has contributed to the increase of the load of the Coop. It has made a big difference to other Coops considering that Tarelco II serves only five Municipalities, one of the smallest in terms of covered land area.
Lately, with the employment of NEA's new Key Performance Standards (KPS), Tarelco II's status is elevated from A Plus (A+) Category to Triple A (AAA), garnering a total of 100% in all aspects of operation-from Financial, Institutional, Technical and Reportorial Requirements-designed by NEA.
Unfortunately, NEA-EC Lumens Awarding Ceremony for Performance Year 2012 was deferred. However, with the present performance of the Coop, the Board and Management Staff positively hope that major awards be accorded again by NEA to the Coop.
---